Web & Email
I have experience doing design for micro-sites, blue-sky proposals for fun, redesigns, email newsletters and email blast templates, and experience doing plenty of banner ad and web graphics support. I'm not a developer, but I'm always looking to learn new tricks and tools to help communicate with developers and make their lives easier.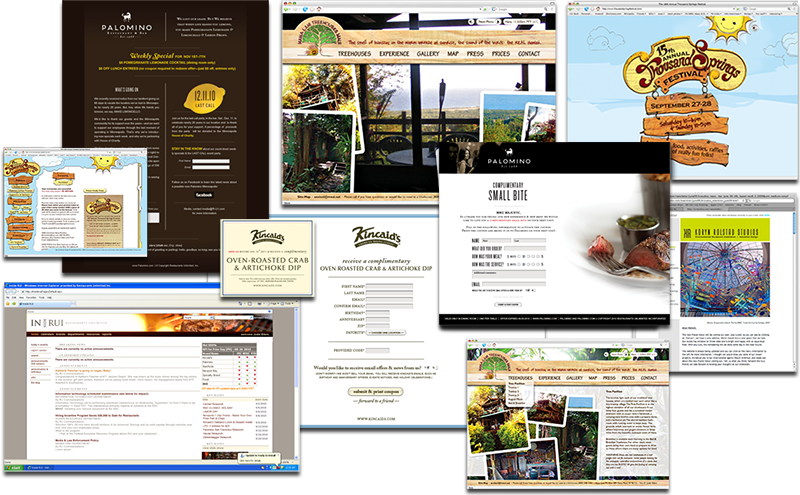 Dole Organics
Rich media for banner ads, website, or streaming video. (Built in Flash using keyframes, 2007)

Below are screenshots from a Dole Organics advertisement I built in Flash using keyframes. The proposed campaign was part of a team project. Together we marketed Dole organic products to more conservative demographics through the approachable and nostalgic tag "Back to the Origin of Yum". Retro stylization was used and reference to the history of Dole was made in the audio to help push the appeal to nostalgia INSTEAD of the appeal to environmental sensitivity. (i.e. Organics is not a new movement, it's the way things were before the agricultural chemical revolution.) I cowrote the script with one of the team members and he did all the audio recording and editing. We designed the lockup as a team and I did all of the other illustration and animation in the Flash advertisement.
Restaurants Unlimited: Palomino "Last Call" Microsite
I was the only in-house creative for 20 brands at Restaurant's Unlimited, Inc. Besides everyday graphic support for all of their changing web images and email blast graphics, I did designs of several micro-sites, a redesign of the internal company site, and designs for special email campaigns and some everyday email blast templates. I also did a lot of banner ad designs for marketing campaigns.
Below is a single page micro-site design I did for one of our Palomino restaurants. Palomino is a Mediterranean/Italian-American style restaurant with multiple locations around the US. This campaign was for a last minute decision to have a party to say goodbye at a closing restaurant. The restaurant lost its lease to Crave so as a team we made up the "When life hands you lemons, make limoncello." theme that went on print and digital materials. The party in the bar was called "Last Call" and we used a countdown date for the party (12, 11, 10... December 11th, 2010).
The simple micro-site was used to communicate specials and party details and the story of the closure to customers as the day approached. It was also possible through the site for people to leave feedback, ask questions, and sign up for updates relating to the closure. It was coded by an out of house vendor.

Restaurants Unlimited: Palomino menu relaunch, data and feedback collection campaign micro-site
Below are images from a micro-site designed for a campaign that had several steps in order to collect some data on our demographic, increase email list sign-ups, introduce the new menu, and get feedback on that menu.
A direct mail piece was sent out with a customized URL to the first version of the micro-site. The customer would enter missing basic info, sign up for the email list, and get to print out a coupon for a complimentary entrée or dessert off of a list of new menu items. The coupons were customized so we would know whose it was.
The restaurants collected the coupons as people came in and sent them back to the office where they were processed and a second offer went out (by email if we had it, print if we only had the address) with a new offer. The new custom URL (for identification) led to a version of the micro-site which asked specifically what they had and what they thought of what they had. They then received a small additional coupon for an appetizer from the new menu as a thank you for feedback.
Restaurants Unlimited: Palisade email template
Palisade is a restaurant overlooking Elliott Bay in the Magnolia neighborhood of Seattle. Entrées are at an above average price point and much brass remains from its original inception. Its large event rooms are catered and they attract a lot of wedding rehearsal dinner and reception business each year.
The email template I designed for Palisade utilizes many of the elements below. (On all RUI email templates you will see a standard, simple formatting that corresponds to the email software and services used in house at RUI. There could be little deviation from this header, footer, two-column 400/200 format.)
What you see below is a slightly more elegant version of their email graphics for an email blast to increase awareness of and increase bookings for the wedding catering Palisade .
Restaurants Unlimited: Banner ad examples, multiple restaurant brands (Cutters, Palomino, Portland City Grill)
While at Restaurants Unlimited it was not uncommon to do at least a few banner ads each week in conjunction with campaigns or as stand alone ads. Below are a few examples, some of them mocked up on their destination sites.
Restaurants Unlimited "Inside RUI" employee-only website reskin
Below, the first images are of the internal, employee site redesign. I created a new lockup for Inside RUI, banner images, and worked with the coder to choose font styles, colors, dividers, and backgrounds that would work consistently for the entire internal site. The final piece was much more food image friendly and more warm and inviting to use simply because of some visual changes.



Below is a screenshot of BEFORE the redesign.
Below is a screenshot of AFTER the redesign.

I was only allowed to touch styles and content, not structure.
Below are images from the redesign of the rotating banner designs and the some pieces for our web coder. The banner would expand with the site, so it was made of two images, a repeating splice image, and floating text (the small caps "Restaurants Unlimited" was HTML) and floating search box.
Restaurants Unlimited: Kincaid's "complimentary offers" micro-site
Below is the mockup of the design I did for a Micro-site for one of the multi-location restaurant brands, Kincaid's. (The final site did not call out the offer under the logo. It was replaced with other text.)
We needed an easy way to pull data in exchange for rewards. The site was code or link based: we could run an ad in a magazine in one magazine offering one deal and give the URL and a code, print an ad in another magazine with a different offer and give the URL and code, hand out little "bounce-back" cards, etc. with an offer, the URL, and a specific code, etc. and all traffic would be directed to this one site (easy review of analytics). The customer would type in some basic info, sign up for the email, and enter the provided code. The code specific coupon would pop up so it could be printed and then taken into the restaurant. A single IP would be unable to use that code again.
Click on the image to enlarge.
Thousand Springs Festival
Blue sky project, for fun and to learn the capabilities of Flash Actionscript 2.0 (2008)

The Thousand Springs Festival is a grassroots style arts festival in Southern Idaho down in a beautiful, lush area of the Snake River Canyon with a very family oriented, pioneer/folk atmosphere with vendors like local wineries, potters, painters, carvers, and cooking contests. They had no previous identity when I decided to design print, way finding, and web for them.

The below designs were a part of my attempt to learn Flash Action Script 2.0, so there are moving parts, such as signs moving on their hinges and the sun slowly bobbing in the sky.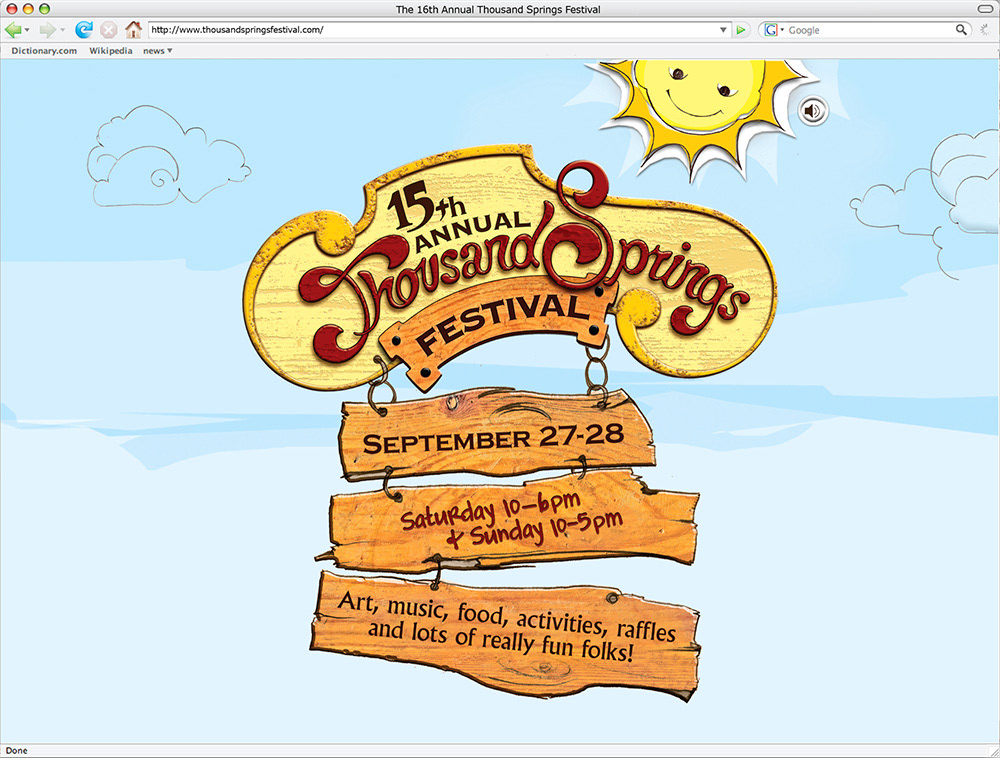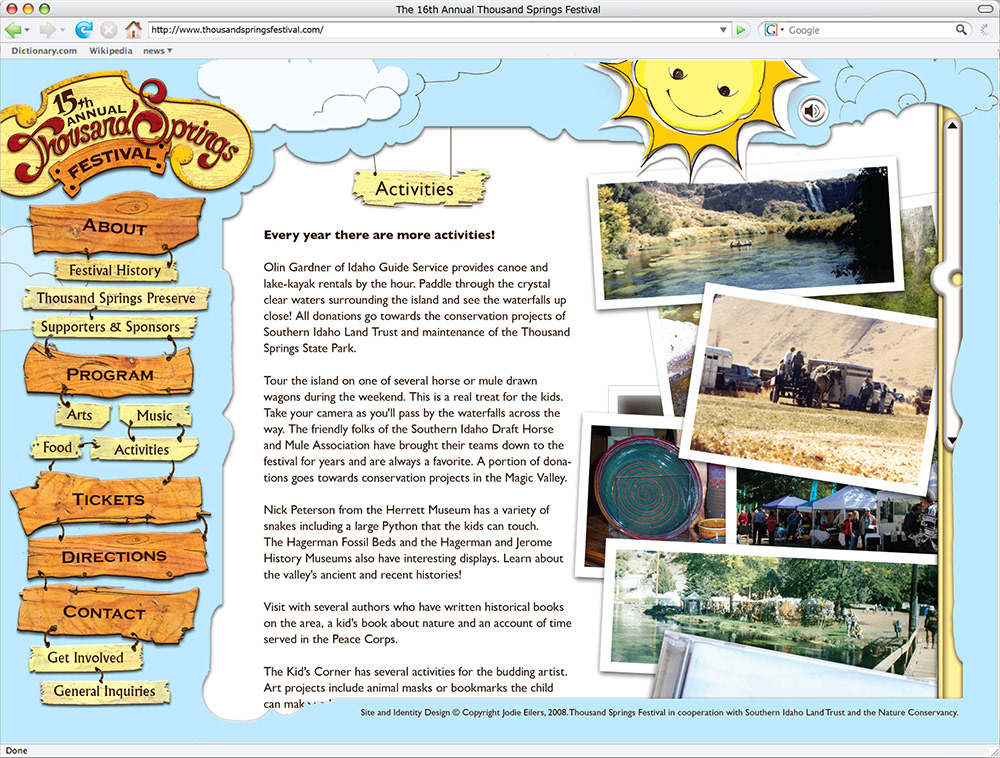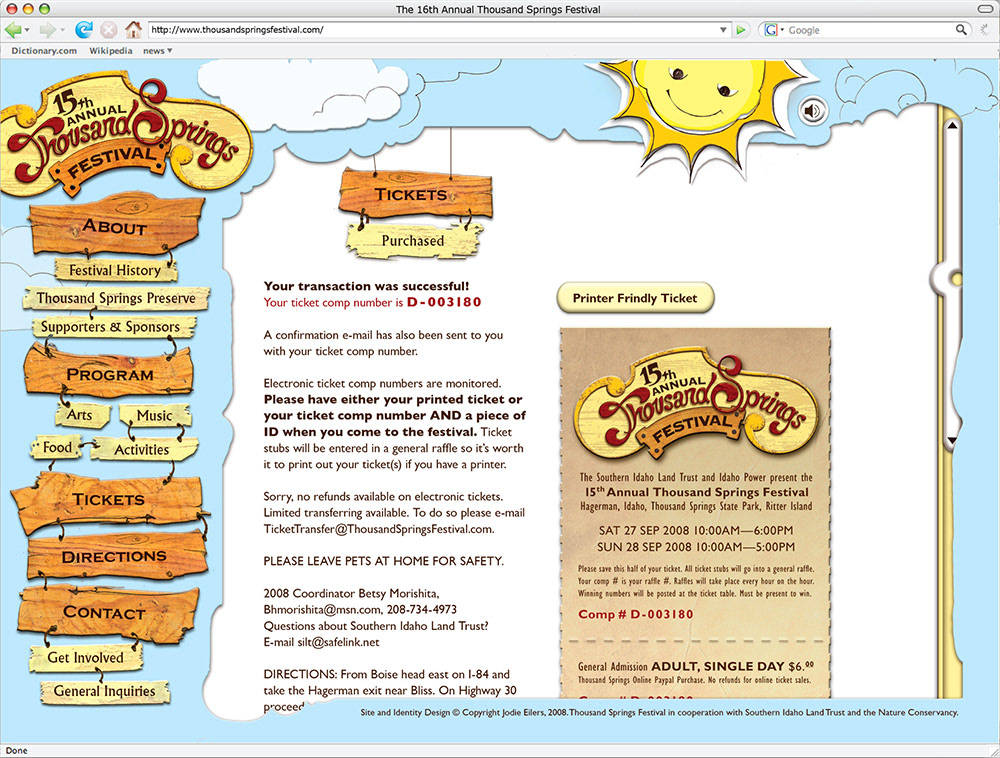 Koryn Rolstad Studios


email newsletter (2008)



Koryn is a commercial artist in Seattle who works in mediums like acrylic, resin, metal, and textile to create installations for public spaces. This project is an example of my own coding knowledge at the time (2008, basic HTML) to create an email blast (sent via Mail Chimp) for Koryn to link people to different parts of her website and share recent projects and awards.

Hana Lani Treehouses



In 2007 I had the good fortune to stay in one of the Hana Lani Treehouses on Maui. However, as a designer, much of the time I spent on their website pulling off important information was done with my head turned slightly away and my eyes at a narrow squint, just to take the edge off. I redesigned their site for fun, utilizing features I'd learned Flash Action Script 2.0 was capable of at the time (2008). A functional site was not completed.



Below: BEFORE the redesign.
Below: AFTER the redesign.