Hello friend. You spend a lot of time with the people you work with. So who am I? ​​​​​​​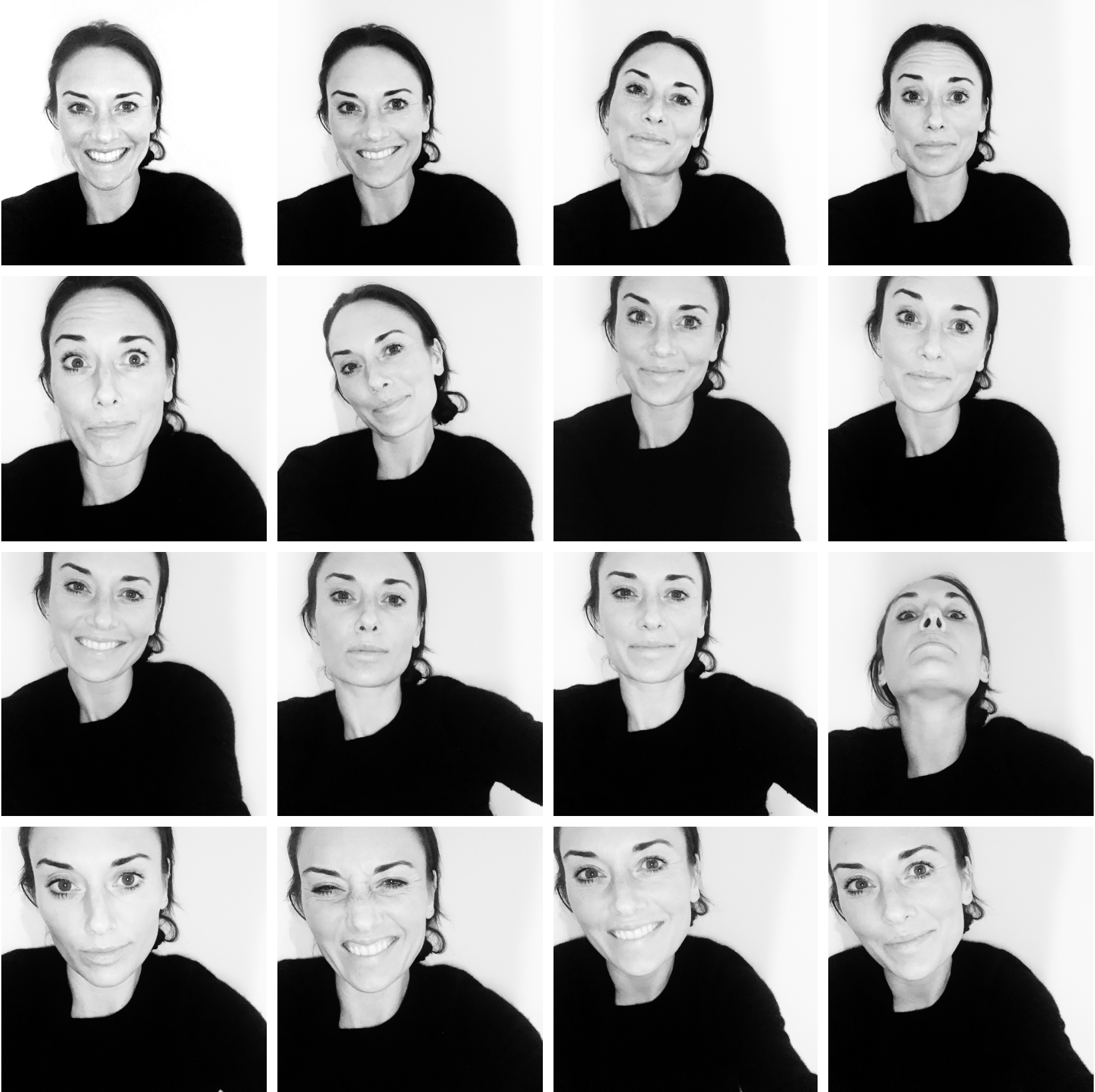 I cochair and teach climbing and mountaineering for the Washington Alpine Club in Seattle during the summer/fall and work remote from Oaxaca, Mexico the rest of the year. I love food photography and developing AIP recipes. I once did murals for a living. I have a travel microscope. I teach yoga, love to dance, and I'm a health geek (I ran a 2 min @ 2 PM plank-o-clock for my tech teams the last 5 years). And I have enough wilderness skills to survive the zombie apocalypse. 
I became a designer because I am obsessed with learning. When you love to learn you end up being good at a lot of things, whether you like those things or not. So in high-school I was being recruited for my math scores, but also for art scholarships.
I'm so grateful now for the unexpected wisdom of my 18-year-old self. Turns out that design is the greatest wormhole: I get to be a part of any and every industry.
I've spent my career peering into worlds of niche products and processes, molecular biology, installation art, hipster brands, cultural social normative behaviors, album illustrations from developing countries, AI and ML of software giants, and so, so many other different fields. It's AWESOME.
I/E N F/T P/J 
STRATEGIC-Learner-Command-Input-Activator​​​​​​​
RED 86% Blue 79% Yellow 51% Green 13%
I only give personality tests so much credit, but they do help us to communicate otherwise very abstract and subjective concepts, so here we go.  
Myers Briggs, Jung
I/E  N  F/T  P/J 
On personality tests I'm a dead split between introvert/extrovert and right/left brain. HA! I like to believe that means I'm well balanced. So while this Jung score doesn't really seem to help much since the only one over 52% is N (intuition, at about 78%), I do identify with my slight introvert skew (52%) and INTP and INTJ descriptions resonate heavily. 
Strengths finder 
Strategic / Learner / Command / Input / Activator 
This score all made sense to me. I'm naturally a whole-systems thinker and I am very comfortable in leadership positions. An example: I am a cochair for the Washington Alpine Club in Seattle Washington where I help run some of their biggest programs. Short story: A few years ago I was co-chairing the 16-week mountaineering program. In the spring, recent grads, instructors, and cochairs get together for two days in the forest for a skills refresher and talk about all the things that could be improved about the program. There was a stimulating discussion with many people offering feedback. I was suggesting solutions in real time that solved multiple problems at once, and people were very interested in implementing them. I was excited. In contrast, fellow cochairs were reacting very differently to the discussion, taking the feedback as personal criticism and having strong emotional responses. That was the moment I realized that I do have a special skill as a big-picture strategist. I remember doing these kinds of things even in grade-school: making up games and projects and rallying people to join in: making ice forts, creating vast play-doh ocean scapes, digging ponds, etc.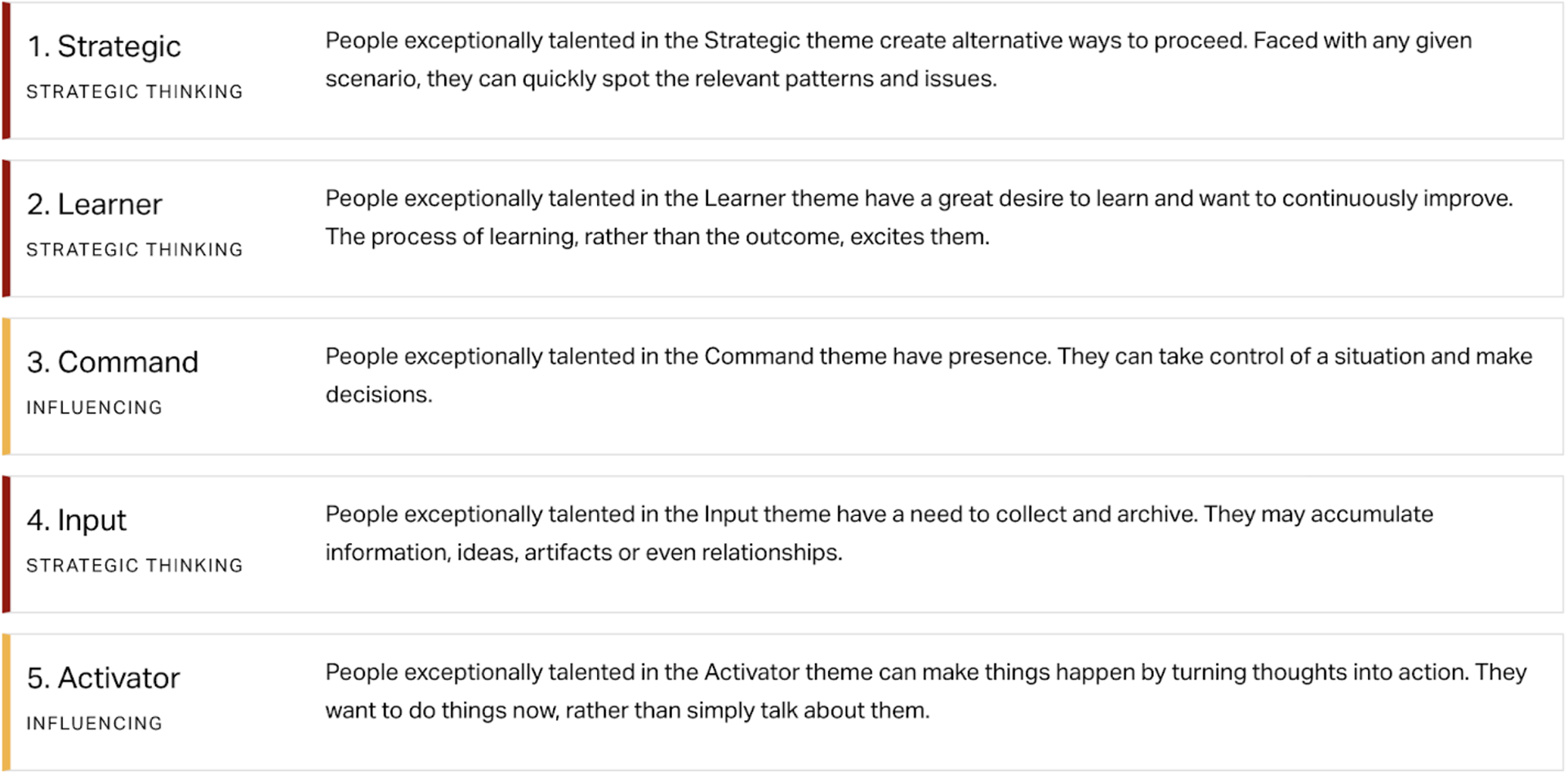 Insights Discovery 
RED 86% BLUE 79% YELLOW 51% GREEN 13% 
The strangest thing happened when my team at Microsoft took the Insights Discovery personality test together. Before you reveal your results to your coworkers, they guess what your highest scores would be in. Weirdly, only two of 18 people suspected any red at all and even they were non committal about it. Ha! See the center in the image below. Where such high red and such low green would imply I'm less personable, my coworkers thought otherwise. Exhibit A: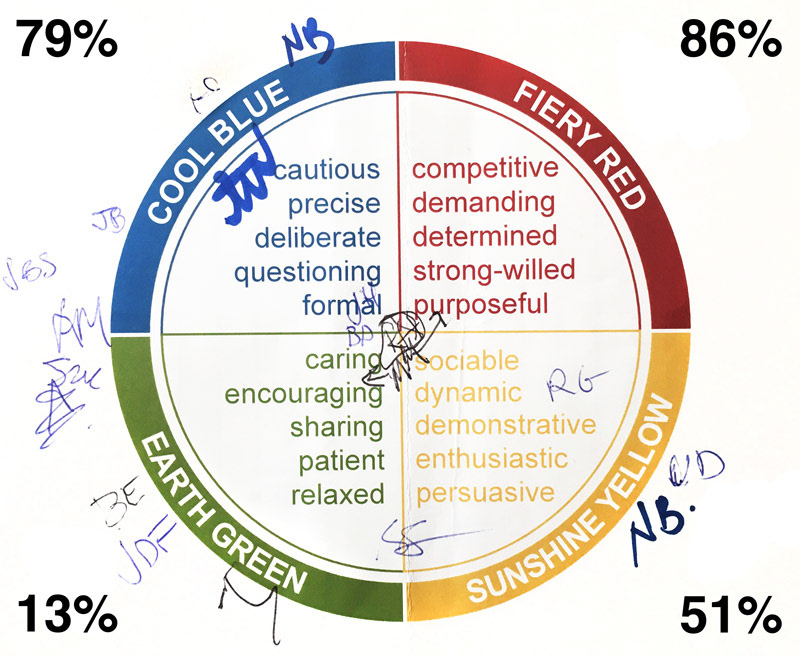 What have I been doing the last decade when I'm not doing freelance? I've been problem solving for some of the biggest companies on earth.
Microsoft (Excel) 1.2017 – 12.2019
In 2016 I joined the Excel design team to work on data visualization, AI and ML explorations, cross-product tools, and data user-journey research. In 2019 I worked primarily on Excel Online features with teammates locally and in Israel. (I loved working with my Israel coworkers on some incredible features that I'm waiting to see roll out in 2020!!!)
Microsoft (Azure, Power Apps, Stream) 5.2012 – 9.2016 
UX Designer, Visual Designer: While on the Azure team 2012–2015 I was responsible for the majority of the layout and content rules for the customizable live tiles in the Microsoft Azure Portal. I designed the intrinsic data visualizations for the portal (charting tools), helped onboarding partners and other designers with content needs and customization, and then consulted with other product teams as they started developing their own tile-based dashboards (Skype, Delve). I worked with the Microsoft Design Language team to coordinate data-visualization guidance and best-practices through the company. I also worked on internal event branding and collateral, Power Apps templates, UX for the first release of Microsoft Stream, and I coordinated between marketing and branding teams on the style guide for the Cloud + Enterprise division. 
Amazon (Create Space, Disc on Demand) 8.2011 – 1.2012
Visual Designer, Production Artist: Contract on site. Meticulous quality control and heavy artwork alteration, utilizing strong software and organization skills to turn-around high quantities of digital art very quickly.
+ other contract & freelance,
including Chateau Ste. Michelle Winery, Spacecraft Clothing, Evil Bikes, Community Fitness, & King County Public Heath.
Restaurants Unlimited, Inc (twenty brands, forty-eight locations) 1.2010 – 6.2011
Visual Designer, Art Director, Brand Manager: Battle-paced, in-house design work: heavy output on tight deadlines. Sole in-house creative. I juggled an incredible project list, managed internal and external relationships with design studios and production vendors, put in place internal processes, and designed a huge quantity and variation of materials and resources.
Rosanna Inc (lifestyle brand, tableware) 7.2009 – 1.2010
Visual Designer: I created style proposals, marketing materials, trade show collateral, original artwork, and production files for factories. I designed and produced the Spring/Summer 2010 catalog and art directed the product photoshoot for the collection (requiring photo-editing magic since we hadn't received all the product for the shoot). 
Koryn Rolstad Studios (international commercial artist) 11.2008 – 6.2009
Visual Designer: Contract on site. I helped with RFP's, project pitch ideas, mocks, and production files for 2 and 3-D projects using materials like acrylic, Sintra, metal, textiles, lighting, wallpaper, and resin. I built project-process-books, designed and coded simple e-mails, and designed event invitations. I assisted with construction installations of way-finding signage and a memorial art piece on a naval base. 
Superbig Creative (brand development & design firm) 7.2008 – 9.2008
Visual Designer: Contract on site. I worked primarily on packaging and branding for Jones Soda, illustrations, photo correction, and the dealer book for Evil Bikes.
Positive Action, Inc (educational curriculum) 10.2003 – 11.2008
Visual Designer: I helped develop and integrate a cohesive style throughout hundreds of products for a wide spectrum of end-customer ages, and I designed marketing campaigns and collateral targeting government agencies and school administrators. I worked with both in-house pressmen and outside printers to achieve creative solutions and high quality within budget. I did resource purchasing and management, product photography, production, illustration, website design proposals, and the design and production of two catalogs.
Desktop by Design (small design and print studio) 1.2002 – 10.2003
Visual Designer: I supplied on-demand design services to a wide range of walk-in clients (as in, designing logos and collateral for people while they sat there watching me.)